MekoTech
13 Minutes Fully Charged, Active Touch Screen Stylus Pens
【Super Fast Charging & long usage time】 Charge about 10 -13 minutes and allows 9 hours of continuous use (No fast charging adapter needed) . It auto shuts down after 10 minutes of inactivity to save power, flashing in the last minute of the 10-minute sleep mode and stops when picked up.
【Support Palm Rejection 】 Palm rejection is a feature that allows a device like a tablet to differentiate between a stylus or a fingertip and a palm or a wrist, effectively "rejecting" unwanted contact. A device and its software employ a variety of advanced algorithms to figure out which inputs are intended by the user . No need to wear anti-friction gloves as you can rest your hand on the screen without worrying about accidental touches.
【Support Angle/Tilt Sensitivity 】 Tilt sensitivity is a feature that allows the device to recognize the angle at which the stylus is held. This feature is useful for shading and creating different brush strokes. This feature is useful for drawing and writing applications that require different line thicknesses or shading.
【1.5mm Fine Tip& High Sensitivity】The 1.5mm ultra fine tip offers a smooth and noiseless writing experience, it is perfect for writing, drawing, detail art work ,playing games with No lag/offset/breaking lines. This iPad pencil comes with 3 replacement nibs to extend the lifetime of the stylus.
【100% SATISFACTION OR YOUR MONEY BACK!】MEKO stylus pen team is committed to providing the best service for you. We offer 90 Days Money Back or Hassle Free Replacement and Free Lifetime Technology Support. If you have any questions about this tablet pen, please feel free to contact us. We will get back to you within 7-24 hours.

13 Minutes Fully Charged, Active Touch Screen Stylus Pens
Model Compatibility

This Stylus is ONLY compatible with ipads released in 2018 or Later. Here are compatible Model name list: iPad 10th/9th/8th/7th/6th Gen, iPad Pro 11"(All Generations), iPad Pro 12.9"(3rd/4th/5th/6th), iPad Mini 6th/5th Gen, iPad Air 5th/4th/3rd Gen. **Please go to [Setting>General>About] to confirm your iPad's model name before placing order. NOT Compatible with other ipad models or any other brand touchscreen devices *
Economic Package

1x Stylus Pen
1x Type-C Charging Cable
3 x Replacment Tips
1 x User Manual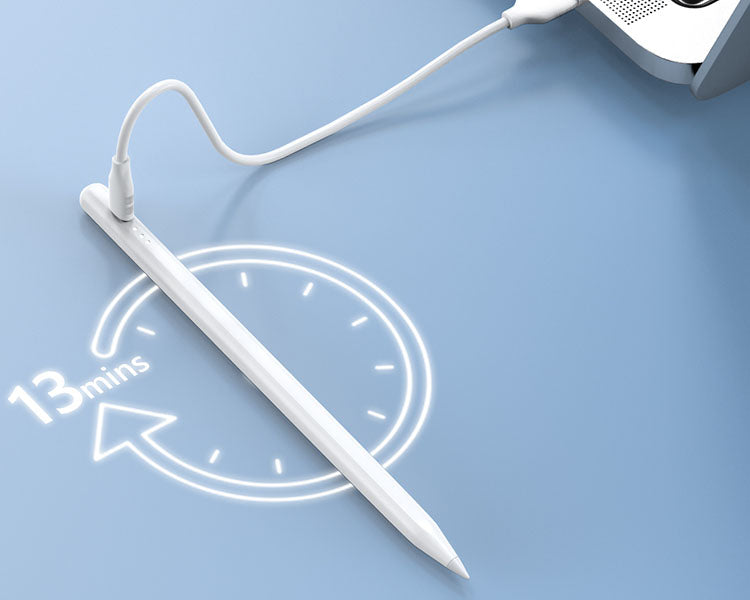 Super Fast Charging
Charge 5 mins -3 Hours continuous use
Charge 13 mins -Fully Charged,9 hours Continuous use
Auto sleep -10 mins
Standby Time-90 Days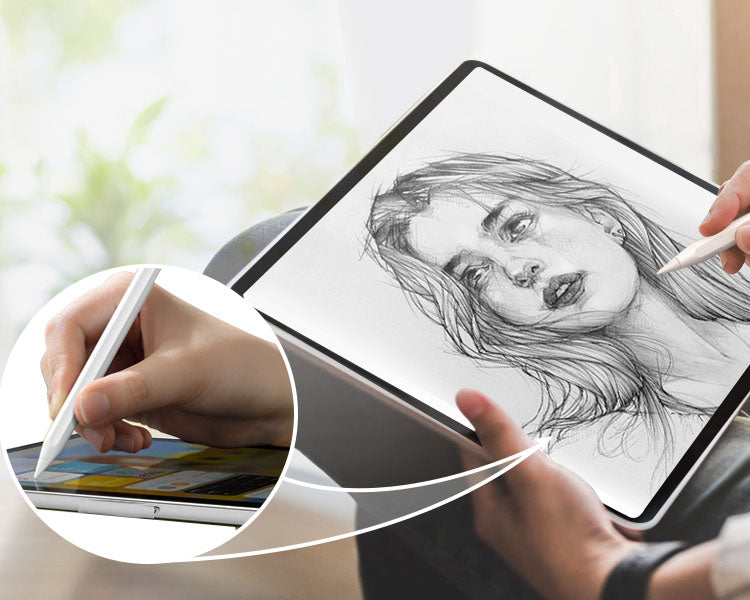 Palm Rejection
Rest your hand on the screen without
causing unwanted strokes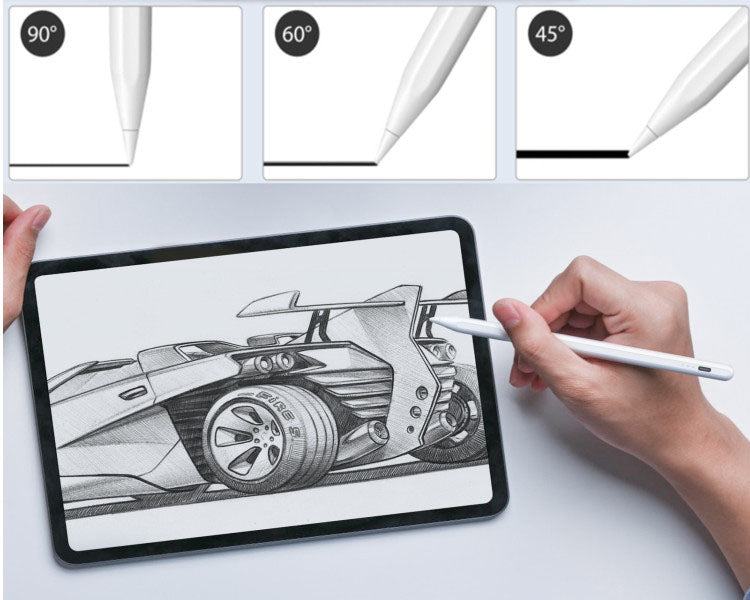 Support Tilt Sensitivity
In simple words, tilt sensitivity allows your drawing
tablet to understand the different angles of a stylus.
If you tilt the stylus at 45°while drawing a stroke, it
will form thicker lines, whereas lifting stylus straight
up can create very thin strokes.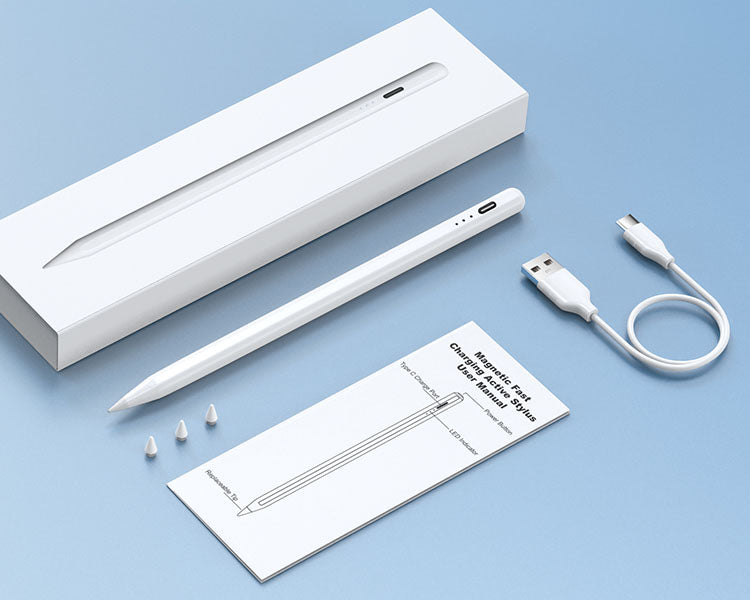 You Will Get
1x Stylus Pen
1x Type-C Charging Cable
3 x Replacment Tips
1 x User Manual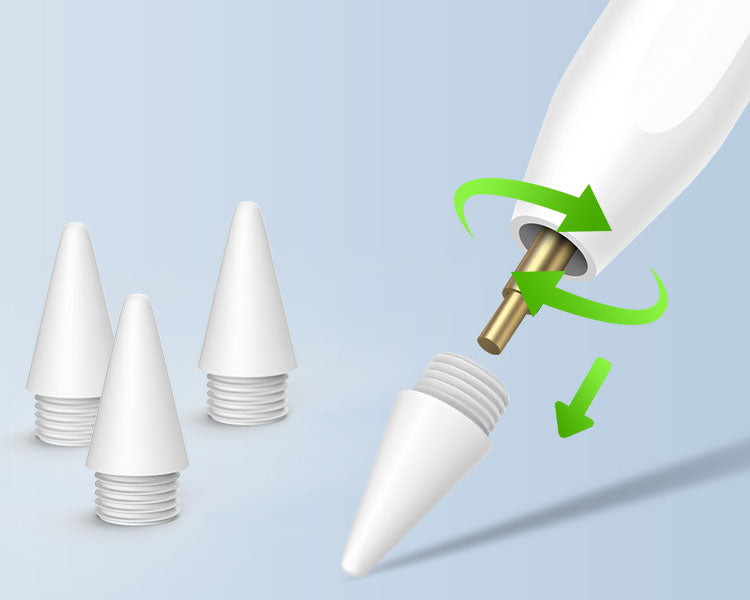 Replace the Tip
3 replacement tips included,
extend the lifetime of the stylus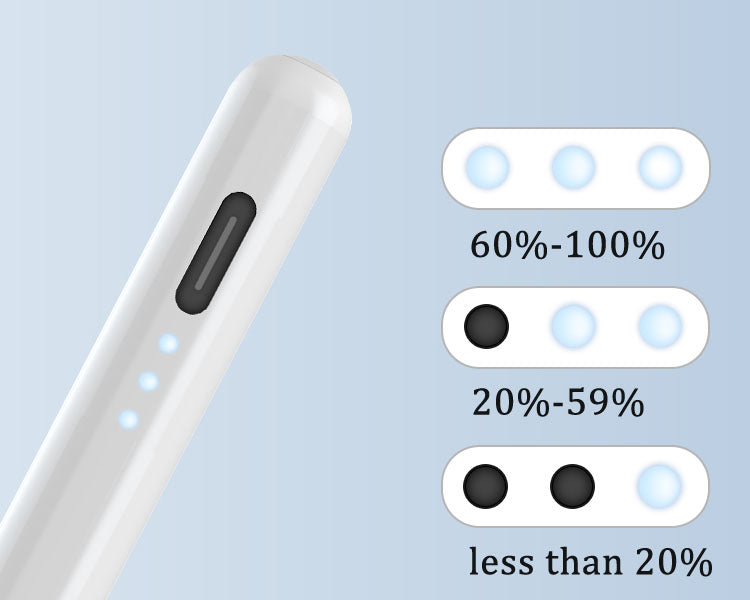 Power Display
Recharge the stylus in time to keep
your creations going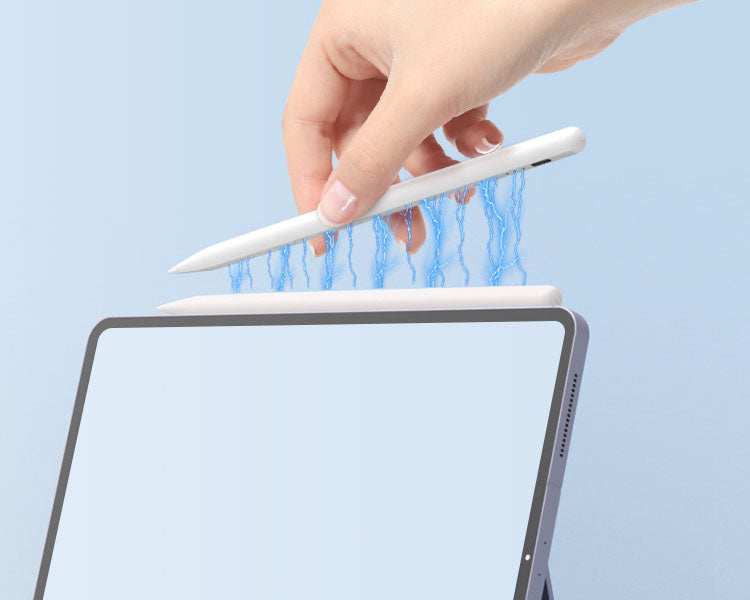 Magnetic Adsorption
Doubled & stronger magnetic attraction than original
Apple Pencil, firmly attach to your iPad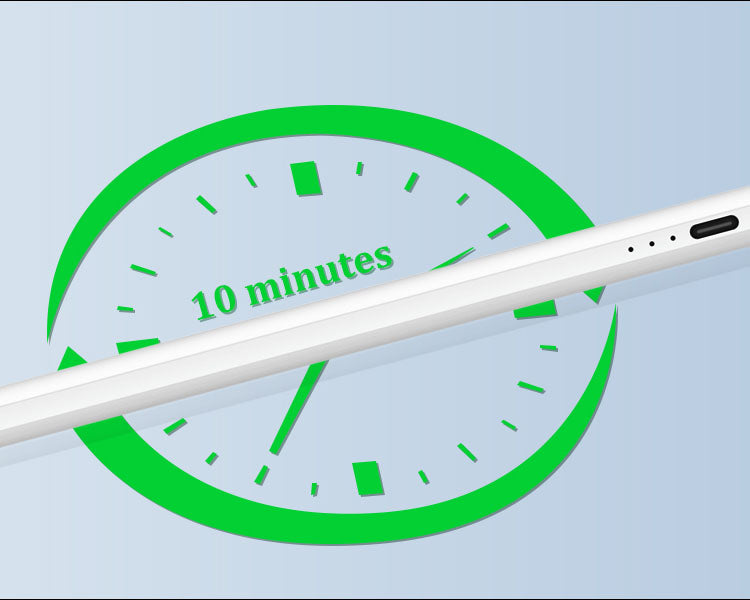 Auto Shutdown
Auto sleep after 10 minutes of inactivity
to save power