MekoTech
10 Pack Capacitive Stylus
✎『Better Than Finger』- The high-quality and ultra-sensitive stylus pen can be smoothly used on any screens of digital products,responsive as finger touch

✎『Easy To Carry』- Slim body, lightweight with a clip design, so it is very easy to carry anywhere.Clips right to your carrying case, book or pocket

✎『Long Lasting』- The body was made from aluminum.It's very safe and long lasting. Enjoy your colorful life with 10 pcs different color styluses. NOTE: If the tip on your stylus falls out, you can try to screw it back

10 Pack Capacitive Stylus
Model Compatibility

Capacitive stylus with high-quality and ultra-sensitive works well on all universal touch screen devices.
Economic Package

10 pcs different color styluses:Purple, Red, Black, Green, Yellow, Silver, Blue, Sky-blue, Pink, Orang.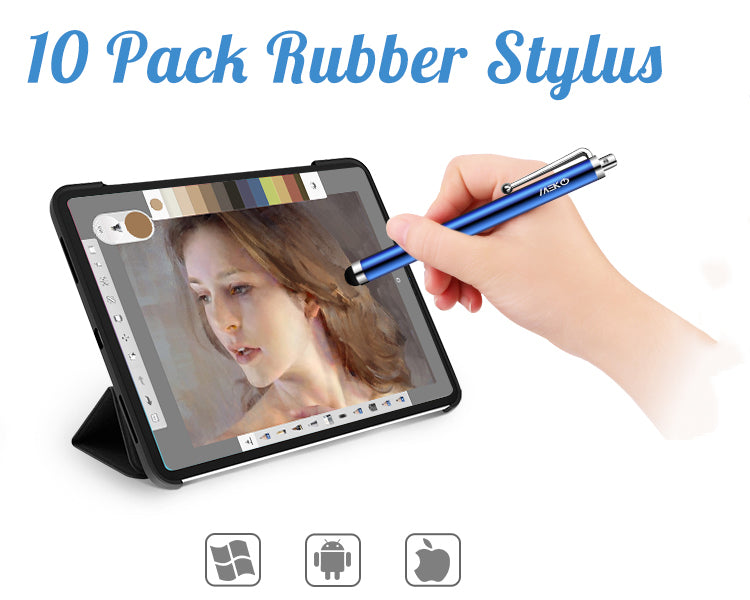 8 Reasons Why You Need A Stylus
More flexible than finger, it can be smoothly used on any digital screens even when you wear gloves or your hands with long nails.
Perfect for writing, drawing, taking notes, playing games and other forms of creative expression.
Protect your screen from scratching and keep no fingerprints.
Slim body, lightweight with a clip design, so it is very easy to carry anywhere.
Clip design, easily clip in your pocket, book, diary, etc.
Elegant and chic, perfect as a small gift for your beloved.