MekoTech
2 Pack MEKO 3-in-1 High Sensitivity Universal Stylus Pencil
【3 in 1 Multifunctional Univesal Stylus】MEKO stylus Dual-sided Stylus Tips are perfect for scrolling and surfing the web, while the other side features an Integrated Ballpoint Pen (with highest-quality ink) - perfect for taking paper notes and signing, the great design for MEKO stylus pen.

【Accurate Touch Screen Stylus】Stainless steel material, durable and corrosion. You can see exactly where you mark is being made and gives you the accurate point through the stylus clear disc. You can get a quieter and more accurate writing and drawing. experience. Special refill to provide convenience for you to record in writing on paper.

【Replaceable Tip Feature】 Provide you with 100% convenience. Three different stylus tips to meet your different needs. Replacing can be done within a second without tool, Extend lifetime of the stylus, including 4 disc tips, 2 fiber tips and 2 gel pen refills. With a sturdy clip, easy to carry around.

2 Pack MEKO 3-in-1 High Sensitivity Universal Stylus Pencil
Model Compatibility

100% compatible with all capacities touch screen devices (iPad , iPhone, Kindle, HP, Dell, Microsoft, Surface, Galaxy, Android)
Economic Package

including 4 disc tips, 2 fiber tips and 2 gel pen refills.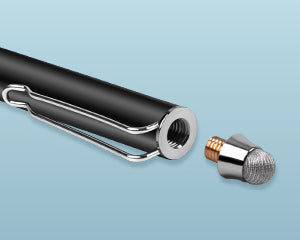 Fiber Tip
Perfect for scrolling and surfing the web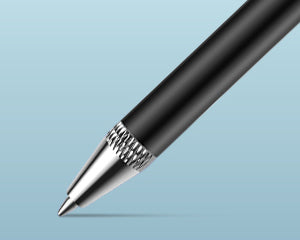 Ballpoint Pen Tip
Perfect for taking paper notes and signing